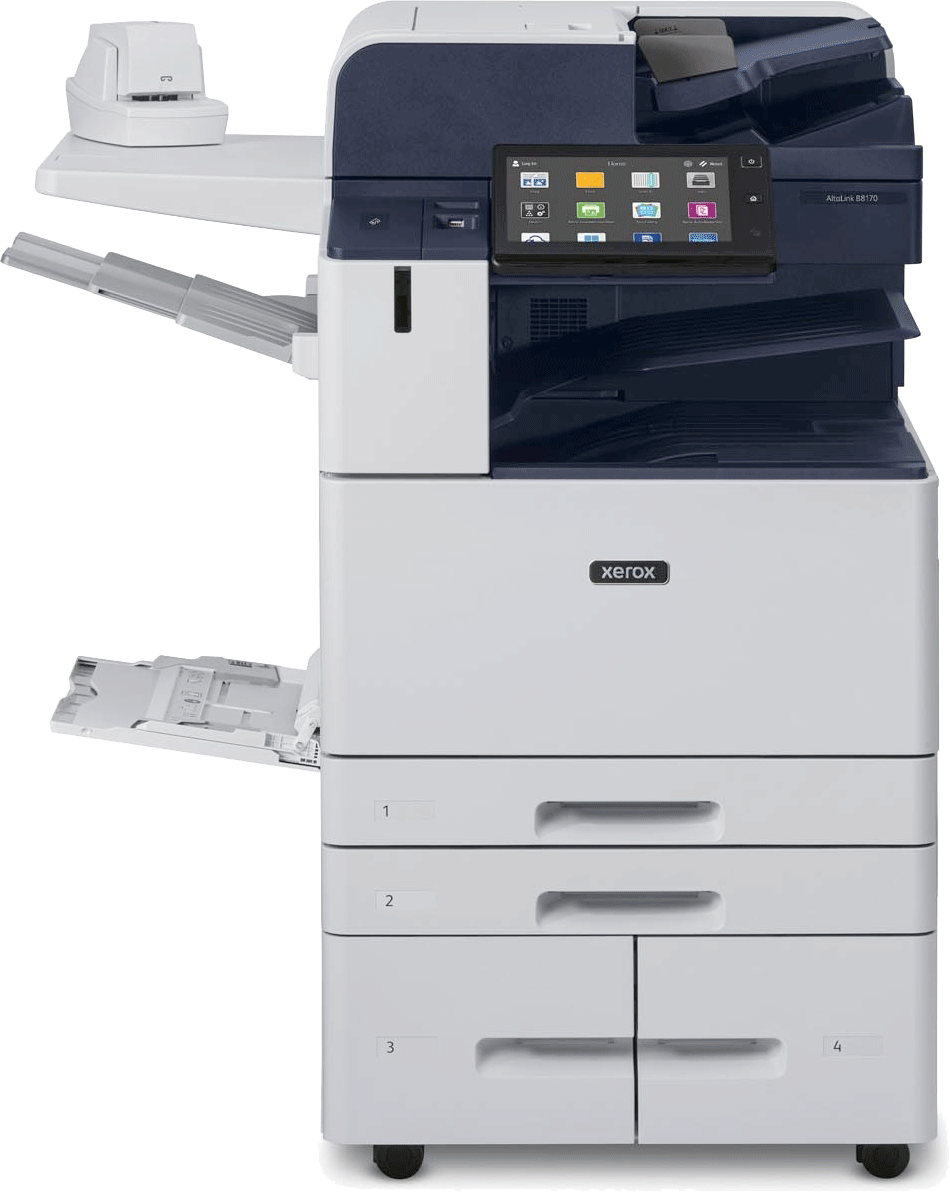 XEROX COPIERS
XEROX COPIERS & LASER PRINTERS
Buy quality New & Refurbished Xerox Copiers and Multifunction Printers from JR Copier.

A full range of digital products from desktop printers to multi-function devices and copiers along with a customized maintenance plan specific to your business and multiple copier leasing services, as well as the option to rent or buy a machine.

Our professional sales team will guide you through every step of the process to help lessen the managing aspect of your business while allowing you to focus on growing a successful company.
Get In Touch
Xerox Altalink C8045
AltaLink® C8045 Series Xerox® ConnectKey® Technology enabled smart, secure and connected Workplace Assistant Color MFP with support for Tabloid Copy, print, scan, fax, email, built-in mobile connectivity Ideal for mid to large workgroups 10" color, customizable tablet-like user interface Powerful and scalable for simple to the most demanding office applications.

• Black-and-white MFP with support for Tabloid Copy, print, scan, fax, email and built-in mobile connectivity
• Ideal for mid to large workgroups

JR Copier
Standard functions Copy, Email, Print, Scan
Optional functions Walkup fax,
Xerox Integrated RFID Card Reader
Print speed
Color: up to 45 ppm
Black: up to 45 ppm
Duty cycle Up to 90,000 images/month

STATE-OF-THE-ART PRINTER AND DATA SECURITY Connectivity poses the risk of cyber-intrusion, but our ConnectKey®
Technology protects from threats with strict printer security and data security.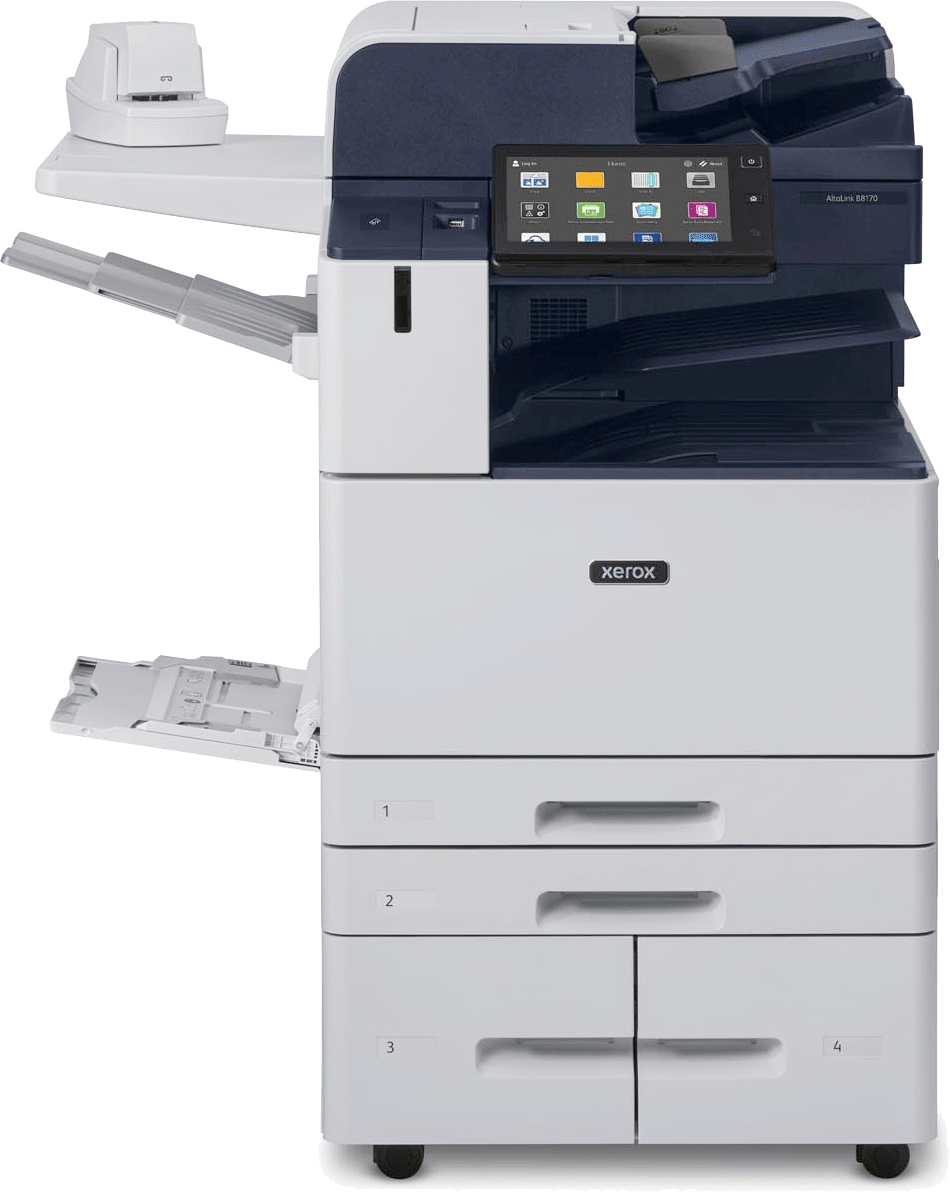 Most Popular Xerox Copiers MFPs
All copiers & laser printers available for lease, rent or purchase.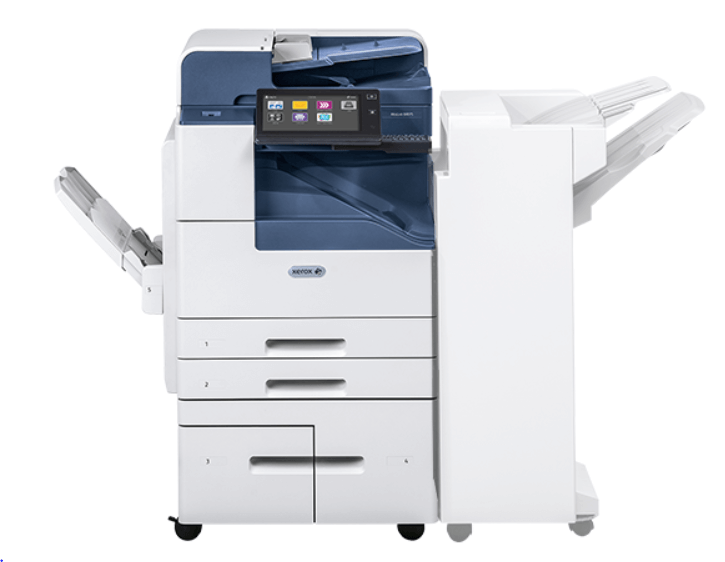 WITH FINISHER
Color & B&W | 30ppm
Copy, print, scan, fax, email and built-in mobile connectivity
4 Paper trays
FREE Delivery & Set Up
$99 /m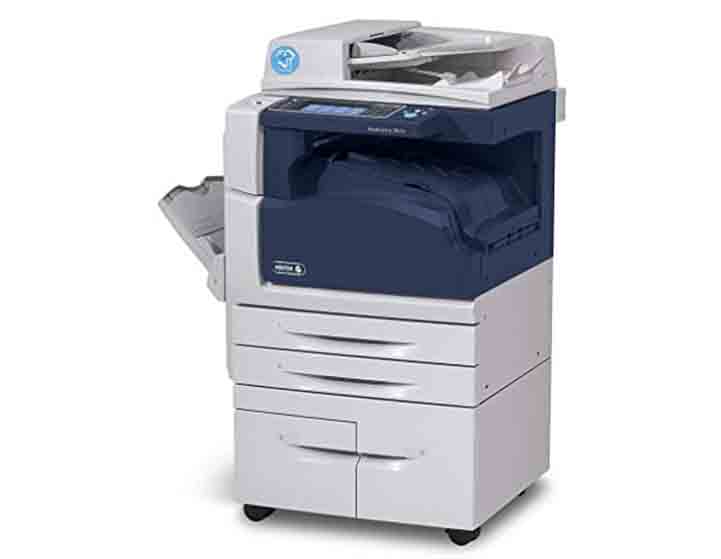 XEROX ALTALINK
WITH INTERNAL FINISHER
Black-and-white MFP | 45ppm
Copy, print, scan, fax, email and built-in mobile connectivity
Ideal for mid to large workgroups
FREE Delivery & Set Up
$89 /m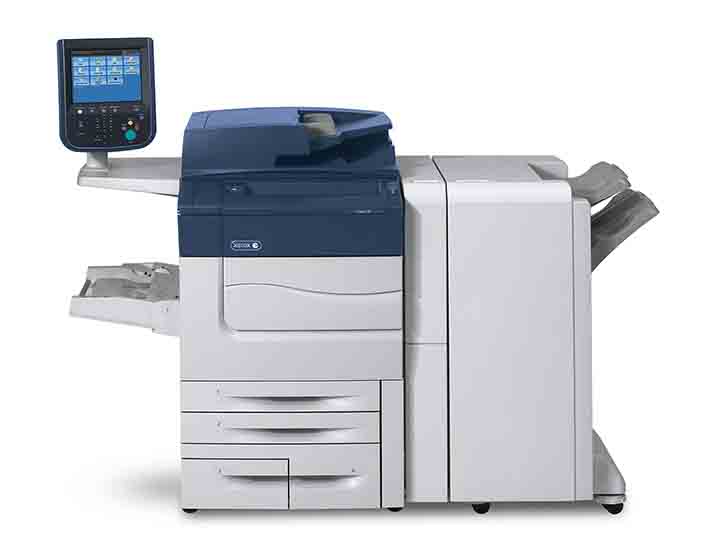 XEROX 560/550
WITH FINISHER
Color & B&W MFP | 60ppm
Copy, print, scan, fax, email and built-in mobile connectivity
Ideal for mid to large workgroups
FREE Delivery & Set Up
$179 /m
XEROX COPIER & LASER PRINTERS
XEROX Copiers we sell and service
| | | | |
| --- | --- | --- | --- |
| 3215 NI | Phaser 3600 | VersaLink B405 Dn | WorkCentre 7428 |
| 3260 DNI | Phaser 3610 | VersaLink C400 | WorkCentre 7435 |
| 3320 DNI | Phaser 3610DN | VersaLink C400 Dn | WorkCentre 7525 |
| 3335 DNI | Phaser 3610N | VersaLink C400 N | WorkCentre 7530 |
| 3345 DNI | Phaser 4500 | VersaLink C405 | WorkCentre 7535 |
| 6022 NI | Phaser 4500b | VersaLink C405 Dn | WorkCentre 7545 |
| 6027 NI | Phaser 4500dt | VersaLink C405 N | WorkCentre 7556 |
| 6500 DN | Phaser 4500dx | VersaLink C500 | WorkCentre 7830 |
| 6505 DN | Phaser 4500n | VersaLink C505 | WorkCentre 7835 |
| 6505 N | Phaser 4510 | WorckCentre 3345 | WorkCentre 7840 |
| 6510 DNI | Phaser 4600 | work center 7845 | WorkCentre 7855 |
| 6510 N | Phaser 4620 | Workcenter 3210 | WorkCentre M118 |
| 6600 DN | Phaser 4622 | Workcenter 6605 | WorkCentre M118i |
| 6600 N | Phaser 6000 | WorkCentre 3045 | WorkCentre M123 |
| 7800 Phaser | Phaser 6010 | Workcentre 3215 | WorkCentre M128 |
| 7800DN Tabloid Phaser | Phaser 6022 | Workcentre 3225 | WorkCentre M20 |
| 7800DX Tabloid Phaser | Phaser 6022E | Workcentre 3315 | WorkCentre M20I |
| 7800GX Tabloid Phaser | Phaser 6125 | Workcentre 3325 | WorkCentre Pro 123 |
| 7801 Phaser | Phaser 6128 MFP | WorkCentre 3335 | WorkCentre Pro 128 |
| 7802 Phaser | Phaser 6130 | WorkCentre 3550 | WorkCentre Pro 133 |
| 7803 Phaser | Phaser 6180MFP | WorkCentre 3615 | X3635MFP |
| AltaLink C8030 | Phaser 6280 | WorkCentre 3615DN | Xerox - Phaser 8400 |
| AltaLink C8035 | Phaser 6300 | WorkCentre 3655 | Xerox - Phaser 8400 B |
| AltaLink C8045 | Phaser 6360 | Workcentre 4150 | Xerox - Phaser 8400 Dp |
| AltaLink C8055 | Phaser 6360 | Workcentre 5325 | |
| AltaLink C8070 | Phaser 6500 | Workcentre 5330 | Xerox - Phaser 8400 N |
| CopyCentre 133 | Phaser 6500dn | Workcentre 5335 | Xerox - Phaser 8500 Dn |
| CopyCentre C118 | Phaser 6500n | WorkCentre 6015 | Xerox - Phaser 8500 N |
| CopyCentre C123 | Phaser 6510 series | WorkCentre 6025 | Xerox - Phaser 8550 |
| CopyCentre C128 | Phaser 6600 | WorkCentre 6027 | Xerox - Phaser 8550 Dp |
| CopyCentre C20 | Phaser 6700 | WorkCentre 6505 | Xerox - Phaser 8550 Dt |
| Phaser 3010 | Phaser 6700 Dn | Workcentre 6505 Dn | Xerox - Phaser 8550 Dx |
| Phaser 3040 | Phaser 6700 Dt | Workcentre 6505 N | Xerox - Phaser 8560 |
| Phaser 3200MFP series | Phaser 6700 Dx | WorkCentre 6515 series | Xerox - Phaser 8560 Dn |
| Phaser 3250 series | Phaser 6700 N | Workcentre 6655X | Xerox - Phaser 8560 Dt |
| Phaser 3260 | Phaser 7100DN | WorkCentre 7120 | Xerox - Phaser 8560 Dx |
| Phaser 3300 | Phaser 7100N | WorkCentre 7125 | |
| Phaser 3300 MFP | VersaLink B400 | WorkCentre 7220 | Xerox - Phaser 8560 N |
| Phaser 3320 | VersaLink B400 Dn | WorkCentre 7225 | Xerox Phaser 6020 |
| Phaser 3330 | VersaLink B400 N | WorkCentre 7226 | Xerox Phaser 7100 |
| Phaser 3600 | VersaLink B405 | WorkCentre 7425 | Xerox Workcentre 6655 |
Fast service

4 hour response time

Trained service techs
Large inventory parts

Easy upgrade

30 day warranty